About Me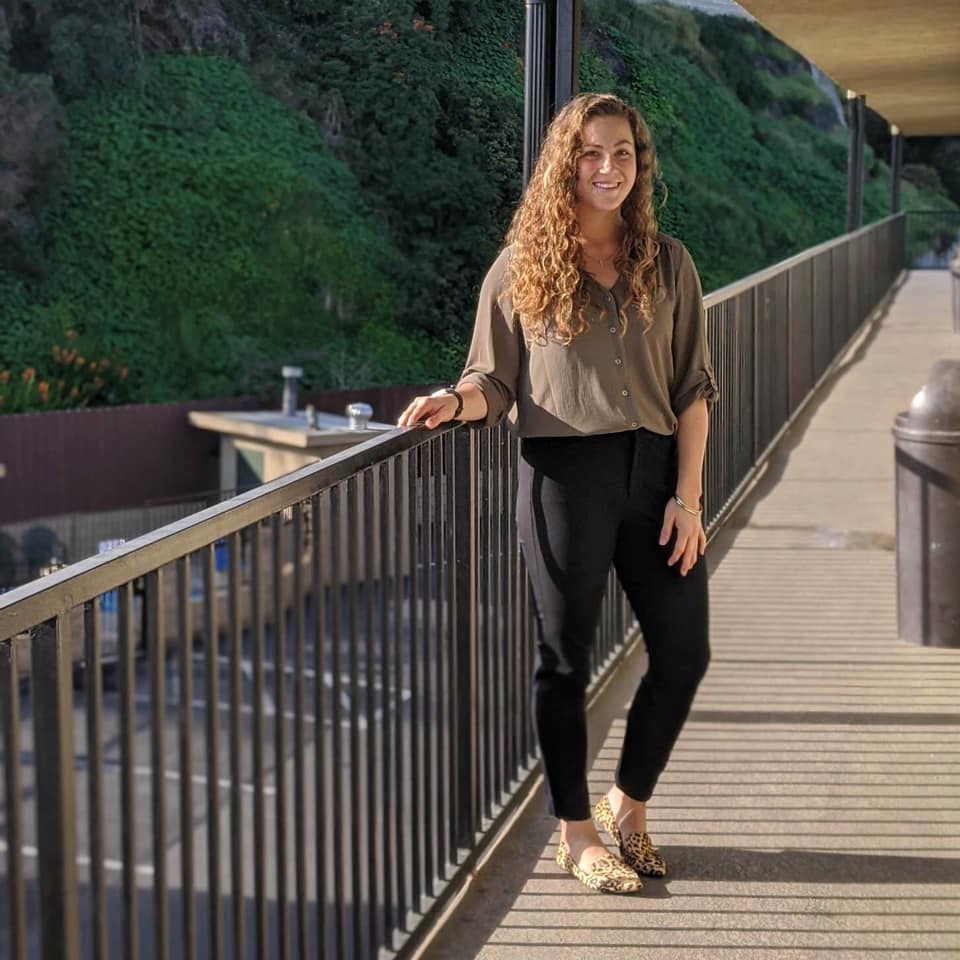 I'm Angelina, and I JUST moved to San Diego from Connecticut! Before my cross country move, I grew up in New Jersey, and went to school at Fairfield University where I graduated with both a Bachelors and Masters in Mathematics.
During my Masters program, I was hired by Fairfield University to serve as a graduate assistant in the Math Center. There, I worked 15 to 20 hours a week tutoring college students. In my first semester alone I helped over 260 students! As a result, Fairfield presented me with the Graduate Student Service Award. I continued tutoring until I graduated in December, 2019.
I am extremely fortunate to have both an outgoing personality and a deep understanding of mathematics. Therefore, I love tutoring because it allows me to bridge the gap between those people who are unable to properly communicate their knowledge of math and those people who need extra help understanding.
During my tutoring, I go out of my way to make sure each student receives the individual attention they require. I know that math is often categorized as intimidating and/or difficult, therefore my mission is clear: I strive to make every student feel welcome and confident when they walk into a lesson, and more knowledgable when they walk out.
Check out the review section to see what my students are saying about me! Still have questions? Feel free to contact me!
What Students, Parents, And Professors Are Saying About Me
"First and foremost, Ang knows her math. Rarely has a math question been posed to her that she couldn't answer! Second, she is caring about her students and truly wants them to succeed.
I sent her several students from my courses during the previous semester and all eight of them performed better on assessments once they starting seeing Ang on a regular basis. They all ended with some of the highest averages in the class. Ang's method is tried and true and her passion for her work shows in the results."
- Professor Nicholas K. of Fairfield University
"Angelina created such a warm, inviting and positive environment for all the students coming for tutoring. She was very popular, and, in fact, over the course of the fall semester, she single handedly tutored over 260 students, more than twice as many as any other grad assistant on record in the Math Center
She was a fabulous mentor to these students, and she went above and beyond what was expected."
- Professor Laura M. of Fairfield University
Reviews From My Students
Make Sure To E-Mail Me Your Own
❮
Ang is a life savor!! I would not have gotten through pre calculus, calculus, or statistics without her help. Math never came easy for me and with the fast paced lectures in class I left class feeling overwhelmed and lost. Once Ang started tutoring me I no longer felt stressed because I knew she would explain and teach it all to me. Ang really knows her stuff, she is very knowledgeable and is super helpful. She takes the time to explain all the material for you, write you sheets of notes and create practice reviews and questions for you. Ang is very accommodating with scheduling and met with me as much as I needed. I always left a tutoring session with Ang feeling much more confident and prepared. Again...I couldn't have done it without her!
★★★★★
Sam F.
Being placed into a Calc class after not taking Pre-Calc and being someone who didn't enjoy or understand math at all, I was scared and anxious about this class. After finding Ang through tutoring however, she made it all make sense to me and helped me build my confidence all while building my math skills. I ended with an A thanks to her and I genuinely mean it when I say I couldn't have gotten through this class without her. I will be using her again in the future as she understands the way students think and how professors teach, making it fun and easy to learn! THANK YOU!!!!
★★★★★
Caroline M.
Ang is without a doubt the best overall tutor I've ever had. My whole life I've been someone that has struggled to understand math of any kind. However after working with Ang I was able to get an A in calculus and an A- in Statistics - two classes I had no business getting grades that high in, but pretty much solely because of Ang I was able to get those grades. Also Ang is super chill and really easy to talk to, she didn't really feel like a tutor she felt more like a good friend of mine who just happened to be really good at all subjects in math. If I could give Ang more then 5 stars I absolutely would!
★★★★★
Michael P.
During my first semester at college, I was enrolled in a rigorous Calculus 1 class. Nearly from the start of the course itself I felt that I was not going to make it through with a grade I hoped for. Material seemed to go right over my head and I was not used to the fast pace of a higher level college course. I sought help from Ang, and I almost immediately was able to identify an increase in both my scores and in my understanding of the material. Right from day one Ang was extremely easy to talk to which made the whole experience just that much better. She went above and beyond to answer any questions, make sure that the students she tutored knew what they were doing, and felt comfortable with the material. I could not recommend Ang enough, and I am sure that I would not have finished calculus with as high of a grade as I did without her help!
★★★★★
Sam M.
Ang is such a great tutor. I struggled so much in my Calc II class to the point where I felt dropping the class was my only option. However, I met Ang and my scores were greatly increased and I ended the semester strong. I highly recommend Ang. She knows exactly how to explain the material in a way that you will be able to understand and you will succeed in your class!
★★★★★
Camille B.
Ang is definitely the best math tutor I've ever had. She explains everything so well and makes sure you understand it before going onto the next question. She also makes you cheat sheets and study guides which is always a tremendous help! Whenever I didn't know how to do something, Ang explained it really well and I understood how to solve it right away. Ang is not your typical math tutor- she's very energetic and makes math fun! I highly recommend anyone seeking math tutoring to go to Ang!
★★★★★
Ali M.
Ang saved my life in Calc II at Fairfield. Always explained the material in the most simple but best way she can. Responded quickly for quick help. Highly recommend
★★★★★
Charles C.
Ang is the best tutor ever! She walks you through problems slowly and will give you a couple of example problems to go through with her. She is very helpful!
★★★★★
Mckenzie C.
❯
How It Works
Subjects
Basic Arithmetic
Geometry
Algebra I and II
Pre-Calculus
Calculus
Statistics
and more !!
Location
I usually work with students on campus,
and with families in their homes, however
I'll meet you where ever you feel most comfortable.
I also do remote video sessions!
One on One Lessons
Individualized tutoring for students requiring help with their lecture material, class assignments or test review
Rate: $50/hr
Group Sessions
2-3 students
Working with friends,family members, classmates or project partners
Rate: $30/hr/student
4+ students
Class exam review- Get prepared for your exam together
Rate: $20/hr/student
*Pricing for virtual tutoring negotiable*
Contacting Ang
Have questions? Please do not hestiate to reach out and ask.
I'm teaching virtually and throughout San Diego or North County.
✉
E-Mail
mcguirea18@gmail.com